Carolina Liar on Their Latest Tour with Kelly Clarkson and The Fray
Interviewed by Lindsey Jo Riley
Photos by Shea Jarman/Groovelive Photography
On Wednesday, August 8th, I sat down with L.A. based band Carolina Liar before their show at the Verizon Wireless Amphitheater in Alpharetta, GA. The band is currently on a nationwide tour with Kelly Clarkson and The Fray, and enjoying the success of their latest album Wild Blessed Freedom. I was expecting a run-of-the-mill interview, but I was pleasantly surprised by the band's sense of humor and just how down to earth they were. Amidst the many laughs, front man Chad Wolf along with his bandmates talked about their latest tour, velvet Elvis paintings, Ace of Base covers, their latest musical influences, and potential plans after finishing the tour.
Chad Wolf: Vocals and Guitar
Rickard Göransson: Guitar
Johan Carlsson: Keyboards
Peter Carlsson: Drums & Percussion
How's the experience of touring with Kelly Clarkson and The Fray going so far?
Chad: Pretty magical actually. They're pretty fun people. In Orange Beach, the last place we played, Kelly rented a twenty foot inflatable waterslide, and we had it backstage, and so we had a water party. The thing was it started a couple of days before that with the guys from The Fray. They went out and bought some AstroTurf and some kiddy pools and some lawn chairs and set up this whole little pool party in the parking lot. Then Kelly took it to this nuclear level. We were out there on the waterslide until almost midnight after the show. [laughs] It was amazing. It was awesome.
So you guys are meshing really well?
Chad: Oh, yeah. We're having a good time. Now we're just trying to figure out how in the hell we're going to even come close to even topping something like that. It's our turn.
* The band started brainstorming with Johan first suggesting a Sumo suit waterslide and Rickard chiming in with the suggestion of Velcro wall. As the suggestions kept coming along with bursts of laughter, it was clear just how well these guys get along.
You guys are touring with Kelly Clarkson, but you also have your own headlining shows, too. Which do you prefer?
Chad: I like this, actually. Believe me, there's no way to lie about it. You get so, just kind of spoiled on these kind of shows, but it is fun to go back and play a punk-rock club. It can be fun. It's just that it's tricky--putting everything together so that it works. You don't know what the size of the room is going to be when you go there, and you're used to something like this, so you have to carry two different rigs. Then whenever it gets there sometimes what you have can still be too big for the club. You think, man we could have carried less gear because it's really too tiny in some of these spots. The one we did in San Diego was awesome. It was at a biker bar, and that turned out to be one of those things where we just needed to get up and just play. So, that gives you that opportunity to get in there and go completely ape shit, which was great. I mean, there's two different levels to it. We've done so many of those small shows. I think we're kind of used to that to a certain degree. This is just such a behemoth, and it's a really fun thing to try and conquer.
What is a typical day on the road like for Carolina Liar?
Johan: Hurry up and waiting.
Chad: [laughs] Generally wake up screaming. We probably don't get started until about 11 or so every day depending on whether the bus is in town or not. Some of these drives, we drive right to the venue, and sometimes we jump right out and just kind of have to get things done. But the cool thing is sometimes there are actually days off where you get to explore the cities a little bit. So, a typical day is around 3 o'clock or 4 o'clock we start hustling and putting the gear onstage. But today, for some reason, there were all kinds of little mechanical things that we had to fix. We just spent the morning repairing gear. Since we travel pretty lightly some of the guys from Kelly's and The Fray's camp have helped us out with repairing things. So, the other side of it is we're in here fixing everything we have so the show keeps going.
Do you guys write when you're on the road?
Chad: Yeah, we do. You kind of just take in what you can when there's time. We got three days off this weekend, so that's going to give us a little bit of time to recover and put perspective on what's happened for the first month of the tour. Well, it's almost our first month. We're still only three weeks in. We still haven't hit a month out yet. That's crazy.
I have kind of a strange question for Johan. I noticed on your Twitter account you have this velvet Elvis painting that was given to you on your birthday. Is it really on your tour bus because it's pretty large?
Johan: No, it IS kind of large.
Chad: [laughs]The thing was, it was on the first day of the tour, too.
Johan: He's been living in the front lounge for two weeks, and now I think he went on a vacation in Hawaii.
Chad: Yeah, he's hiding, but every now and then he comes out for a drink. When we went to Vegas he was trying to get out. He saw the fountains at the Bellagio and made a dive for it.
Johan: He showed us all the places he played and all that stuff.
Do you have a place you've picked out for the painting to live permanently?
Johan: No, I asked him and he said he would rather stay on the bus. He's the touring Elvis.
What bands/artists have influenced you as musicians?
Chad: Right now, on this particular tour we have been listening to a lot of road country songs like a lot of Willie Nelson and Johnny Cash.
Johan: Our bus driver is a huge fan of country music.
Chad: Yeah, he's a serious country fan, and we've been listening to these kind of obscure truck-driving, Western swing songs. That's kind of been one of the flavors-- a lot of country music right now. Let's see, Jason Aldean. (To Rickard) What else have you been playing on the bus as far as the country theme goes?
Rickard: I can't even remember now what I've been listening to.
Johan: Ace of Base
* At this point we all engaged in slightly random conversation about fellow Swedish band Ace of Base and the meaning behind their hit "All That She Wants". Was the song literally about wanting another baby or a metaphor about wanting another boyfriend? The debate went on for about five minutes, and even included Rickard playing the song for us on his smartphone, but the only conclusion that was really made was Ace of Base is a great band.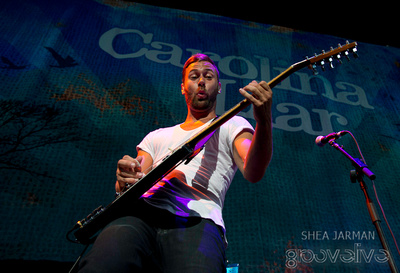 How do you guys get ready for a show? Do you have any rituals?
Chad: Our last bus had an amazing stereo in it, and we would just jam for about 30 minutes and listen to something that could move you a little bit, just some boogie music. But, this tour we haven't quite gotten [there]. Maybe now we can start getting into that kind of mode.
Rickard: We always have like one minute to get dressed and run out.
Chad: Yeah, timing is tight for this because they do some really awesome production stuff, so it's really worth it. They work literally from six o'clock in the morning until right up until the doors open to get everything ready. It's kind of amazing how much stuff they build with these shows. It's really worth the money. The ticket price is good. It's a good show.
In my opinion, you guys have songs that sound great live. It's how they're meant to be heard. Would you guys ever consider releasing a live album in the future?
Chad: Yeah. We'd love to do that. I mean that could be an option. With some of the stuff we're doing now we've kind of gotten the songs set up live-wise. We should record. I know they record a lot of stuff so we were thinking about getting a hard drive and capturing a couple of these shows and then kind of cherry picking the best songs that come out of it and maybe release that as an EP once we're done. We'll see how it turns out.
Johan: [laughs] Or take the hard drive and throw it away as far as we can.
Do you guys have a favorite song in particular that you like to perform?

Johan: Maybe that's a good cover to do. Ace of Base.
Chad: We did "Girls Just Want to Have Fun" the other night. It was kind of fun, but I don't think we'll do it ever again. It worked. You know it's of one of those kind of things where you want people to get up and sing and boogie a little bit, and it did that. But then there's that part where we're not really taking it to some new, original place. It's still the same song. The hooks and stuff still have to be the same. There's nothing you can really get away with.
What are your plans after you're done with the tour?
Chad: We're not sure. Hopefully we'll release an EP afterwards. We have a couple of Christmas songs and stuff that could be fun to put out. That could be an option. We'll just kind of see what's happening. We had the idea of going back and writing some stuff for a couple of TV shows and getting back into that. That's an option, too. But right now, I guess the goal is to go out and finish promoting the rest of Wild Blessed Freedom and just kind of see where it goes. It took us a year to get to this place with that record. It's a different thing whenever you're on a major label and you have that kind of machine to put the first record out. You could do that in like three months and be out on a tour like this. So it took us a year to get here with that one, so we may still work that record a little more. I'm not sure but I would like to get into something new now that we're independent. We can start releasing things on our own. It could be fun.
Once finishing the interview, I found my way through the venue to my seat. While waiting for Carolina Liar to take the stage, I struck up a conversation with the couple sitting beside me, and to my surprise I had just met Carolina Liar's biggest fans and front man Chad Wolf's proud parents. Chad's mom proudly told me that Chad had always been an incredibly hard worker, and that he hasn't changed a bit. He's still the caring, sweet guy he has always been.
As the show began, we all sang along with Chad, clapping and enjoying every minute of the show. The whole band had the crowd up and moving, starting the night off perfectly. After the show, the band hung around for a meet and greet with their fans, taking time to pose for pictures and speak with each and every person that wanted to meet and chat with them. Between the exceptionally fun interview, meeting Chad's proud parents, the incredible performance, and watching the band interact with their fans, you can't help but wish Carolina Liar all the success in the world.